AFFORDABLE. GREEN. SUPER INSULATED. READY TO ASSEMBLE!
Why DIY PODS?
Building Envelope
A DIY Pod building envelope which includes Walls, Roof and optional Floor is fabricated using the highest quality Structural Insulated Panels (SIPs) on the market today. We find that most studio sheds, garden sheds and backyard spaces are constructed with the most basic of wood framing materials. In a few cases we have seen others using SIPs, but be sure to check the type of foam and panel used. As with any product, you'll find there is always a lower quality grade available.
Insulation Values
A DIY Pod, because it's constructed using Structural Insulated Panels (SIPs), the structure is instantly insulated once assembled. Compare our panels to stick frame, EPS panels, block, you'll find we're offer the highest insulation values.
Our SIPs are fabricated across multiple factory locations and produced in high-volume quantities. This enables us to offer you not only competitive prices in SIPs but also stick frame as well. When comparing, be sure to compare apples to apples!
About Us
DIYPods.com is dedicated to offering very affordable SIP Kits to the Do-it-Yourself enthusiast.  SIP Supply has been manufacturing SIPs for commercial, large residential and military projects since 2003.  
During this time we have received many requests for smaller tiny home and pod style units so we've decided to design a starter SIP Kit collection.
Because Greenix Panels are well made, ready to assemble and so versatile in use, we are now featuring them here at DIYPods.com - for you - the Do-it-Yourselfer!
We're excited about what we do; we're about working with you to meet your budget. If you have any questions or want to just talk about DIY Pods give us a call, we'll be glad to work through the details of what you need and see what we can do for you.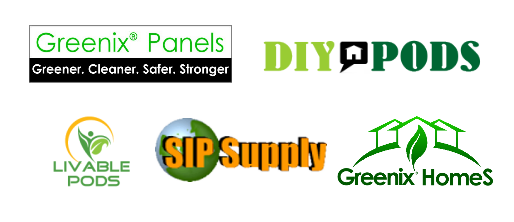 DIY PODS. AFFORDABLE. GREEN. SUPER INSULATED. READY TO ASSEMBLE!